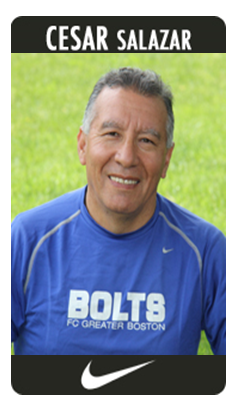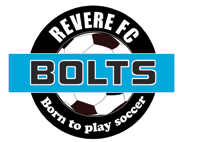 "The opportunity to help the youth to development their talents and became the best they can be as a players and as a persons is being a blessing in my life and in the life of my family"
Cesar Salazar REVERE FC BOLTS Director
FALL SOCCER 2019
BOYS AND GIRLS 4 TO 15 YEARS OLD
9 SESSIONS OF TRAINING AND GAMES
STARTING ON AUGUST 31
(August 31, September 7,14,21,28, and October 5,12,19,26)
Revere Coach Cesar Salazar and Boston Bolts Coaches are offering in the fall an accelerated soccer , training/playing program which prioritizes skill development and nurtures a love for playing soccer in a fun, competitive, and age appropriate environment to Boys and girls from all ages and levels.
***Playing soccer contributes to a healthy lifestyle that reduces childhood obesity, diabetes, asthma, and many more challenges that face our children. Soccer helps build friendships, leadership skills, and much more!
Every camper will be provided with a Bolts Jersey!
WHERE: REVERE HIGH SCHOOL TURF FIELD
(101 School St. Revere).
WHEN: AUGUST 31 TO OCT 26 …FROM 8:00AM TO 10:00 AM
HOW MUCH: 1 Player $120………….…2 siblings $200 …….. 3 siblings $280
REGISTRATION: SATURDAYS IN THE REVERE HS SOCCER FIELD FROM 8 AM TO 10 AM
WALK IN REGISTRATIONS ARE WELCOME !!!!!!!!!!!!!!!!!!!!!!!!!!
ONLINE at reverefc.com
***Every player MUST bring a soccer ball (ages 4 to 7 size # 3 and ages 8 to 13 size # 4)*
INFORMATION
ONLINE at reverefc.com CONTACT: Cesar Salazar 781–718–9971